NEWS and EVENTS
---
Date for Diaries .
Sunday 14 th May 2017 - Tea Festival – proceeds to Ross Action Committee mini bus appeal
arranged by the Cake Club Ladies
Village Hall 2.00 – 5.00
Ticket holders only – more details to follow
oOo
---
Following the transfer of the parish of Brampton Abbotts into the Benefice of Ross and Walford, a monthly family service will be held in the Village Hall on the third Sunday of the month at 11.15 am. The next service is on Sunday 18th October and everyone will be most welcome. A Remembrance Service has also been arranged for Sunday 8th November at 10.00 am in the Hall.
---
Tai Chi
Tai Chi is starting again in the Village Hall on Tuesday 9th September at 9.30 till 10.30 a.m.
The cost is £4.30 per session or £24 for 6 sessions.
New members welcome. Come and join us – it's relaxing and enjoyable!
---
TAI CHI IN THE VILLAGE HALL
We are now having Tai Chi on a Thursday morning at 9.30, rather than Tuesdays.
New members would be very welcome as there is room for more.
Come and join us. It's very relaxing!
---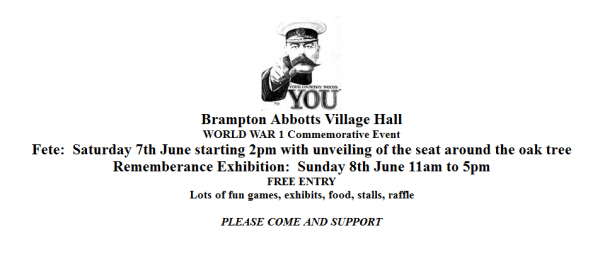 ---
26 April Comm. Cafe
7/8 June World War 1 event – exhibition, games, tea etc. Raffle in aid of British Legion
[Over the weekend of 7th and 8th June. The Village Hall are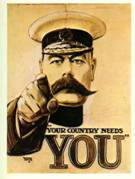 putting on an exhibition covering life in the village over the last century and this will include sections about local people, the hall, church and school. If anyone has any memorabilia they could lend please contact Robert Lewis (567518) or Rosemary Knapp (564003)
Thank You ]
26 July Comm Cafe
12 Sept Progressive Supper
25 Oct Comm Cafe
There'll probably also be something pre-Xmas
---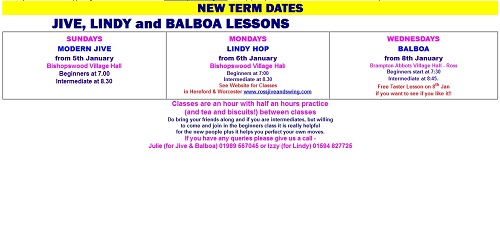 ---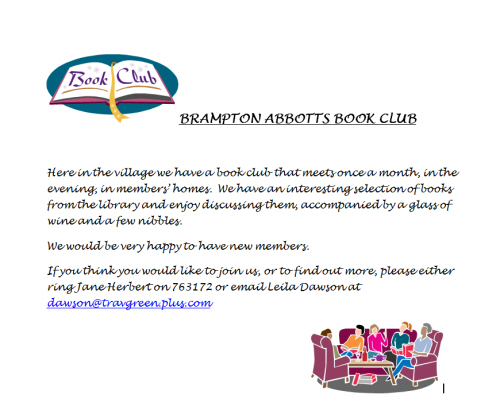 ---
Here are the details of the Book Club for the coming year. New members most welcome.
Meeting date

Venue

Title

Author

23 Jan 2014

For details of whose house the meeting will be in,

please contact Leila at dawson@travgreen.plus.com

or on 562231

Or Jane on 763172

A Thousand Splendid Suns

Khaled Hosseini

Feb 2014

No meeting

20 March 2014

Kilvert's Diary

Francis Kilvert

17 April 2014

The Jane Austen Book Club

Karen Joy Fowler

22 May 2014

The Moneyless Man

Mark Boyle

19 June 2014

Quiet Belief in Angels

Roger Jon Ellory

24 July 2014

Cure of Souls

Philip Rickman

21 Aug 2014

Bring up the bodies

Hilary Mantel

Sept 2014

No meeting

23 Oct 2014

Oxford Murders

Guillermo Martinez

20 Nov 2014

The Art of Happiness

Dalai Lama

18 Dec 2014

The Blind Assassin

Margaret Atwood
---
Tai Chi Classes
Put this date in your diary!
Tai Chi classes are starting in the Village Hall at 10.00 am on Wednesday 9th January . The Hall will be open from about 9.45. To start with there will be a trial period of 10 weeks, and then, if everyone is happy, classes will continue.
The following is a message from the instructor, Katie Wright:
The class will be along these lines: It will start with a mild warm up and then we will go on to practice a Qigong set (we will do a number of different sets). There will then be a short break for people to have a drink and then we go on to learn a Tai chi form. We will start with the Yang Style 6 form which gives the basics of Yang style Tai Chi while being short enough to learn easily. After the 10 weeks, if the class continues, we will go on to learn longer forms.
People need to wear loose clothing and either socks or light shoes on their feet. I always say that people just do what they are able to do and any movements that cause pains or discomforts can be altered or left out.
Students will pay at the beginning of every class (£4 each) but I will offer a discount if people want to pay for the whole 10 weeks - £36 for the course, but there will be no refunds for missed classes.
Everyone is welcome. Come and join in a village activity!
As a result of the tree planting a large cheque (£700) will be making its way to St. Michael's Hospice. Thank you all!
You may bring your own drink if you prefer.
Family entertainment.
Put date in diary.
All proceeds from evening will be going to St. Michaels Hospice, Hereford.
PROGRESSIVE SUPPER....